Some Lincoln County School District staff members recently participated in a family reunification training drill.
A Family Reunification procedure is used when it is necessary to release students directly to their parent, guardian or designated emergency contact due to an emergency situation that prevents a normal dismissal. Situations which may require a Family Reunification include fire or damage to a school building, a natural disaster, a field trip emergency or school bus accident, violence in the community, or a situation involving a threat, weapons or violence at school.
A well-organized Family Reunification process will help to reduce anxiety during a potentially stressful situation and reunite children with their families in a structured, timely & safe manner. The key components to our Family Reunification process include:
  1. Choosing a Location early on in the crisis and deciding whether the Reunification take place on- or off-campus.
  2. Timely and consistent Communications, with parents, school staff and students;
  3. Designating and managing three distinct Staging Areas. A Parent Check-in Area, a Family Waiting Area, and a Student Supervision Area;
  4. The safe Release of students to their parent, guardian or designated emergency contact. 
For more information about the District Family Reunification protocol, visit /lincoln.k12.or.us/resources/family/safety
LCSD Safety Coordinator Sue Graves was the most recent guest on the Compass Connection Podcast with Superintendent Dr. Karen Gray. Listen to the podcast about school safety here:
Compass Connection Podcast with Sue Graves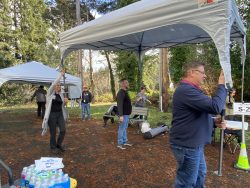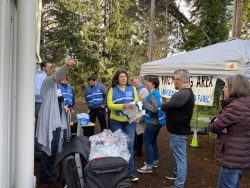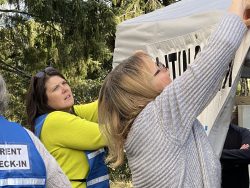 Algunos miembros del personal del Distrito Escolar del Condado de Lincoln participaron recientemente en un simulacro de formación sobre reunificación familiar.
Se utiliza un procedimiento de Reunificación Familiar cuando es necesario entregar a los alumnos directamente a sus padres, tutor o contacto de emergencia designado debido a una situación de emergencia que impide una salida normal. Las situaciones que pueden requerir una Reunificación Familiar incluyen incendios o daños a un edificio escolar, un desastre natural, una emergencia en una excursión o un accidente de autobús escolar, violencia en la comunidad o una situación que implique una amenaza, armas o violencia en la escuela.
Un proceso de Reunificación Familiar bien organizado ayudará a reducir la ansiedad durante una situación potencialmente estresante y reunirá a los niños con sus familias de manera estructurada, oportuna y segura. Los componentes clave de nuestro proceso de Reunificación Familiar incluyen:
1. 1. Elegir un lugar en una fase temprana de la crisis y decidir si la reunificación tiene lugar dentro o fuera del campus.
2. Comunicaciones oportunas y consistentes, con los padres, el personal de la escuela y los estudiantes;
3. 3. Designación y gestión de tres zonas distintas. Un Área de Registro de Padres, un Área de Espera de Familias y un Área de Supervisión de Alumnos;
4. 4. La entrega segura de los alumnos a sus padres, tutores o contactos de emergencia designados.
Para más información sobre el protocolo de Reunificación Familiar del Distrito, visite /lincoln.k12.or.us/resources/family/safety