Apply for a Job
Thank you for your interest in employment with Lincoln County School District, located on the beautiful central Oregon coast!
Administrative, Licensed, Classified, Coaching
Please Note: Applications are accepted online only using Frontline's Applitrack system.
---
The following steps will guide you through the Applitrack process:
Click on the "Search Open Positions" link above.
Click on the category for the desired position or all jobs for which you wish to apply. This will take you to the details of the job postings.
If you meet the minimum qualifications for the posting, click on the Apply button.
If you have an existing Applitrack account, log in using IMPORT from another account.

If you already have an existing Applitrack account, you may log in under IMPORT from another account with the email and password information you have previously established.
If you do not have an existing Applitrack account or would like to create a new account, you should enter your information under START to begin the process.

Once you have logged in, fill out all of the appropriate sections of the application by following the prompts.
Substitutes
Please visit the following link to see open substitute positions:
Custodial and Food Service
Lincoln County School District contracts with Sodexo for its custodial and food services. Sodexo handles their own hiring and only takes applications online. Use the link below for a list of job openings and information on how to apply:
---
Pre-Employment Drug Testing Policy
All offers of employment made by Lincoln County School District are contingent upon applicant's successful passage of a district-required pre-employment drug screening test.(LCSD Policy GBED).
Non-Discrimination
Lincoln County Schools do not discriminate on the basis of an individual's race, color, religion, sex, sexual orientation, national origin, disability, gender identity, marital status or age or because of the race, color, religion, sex, national origin, disability, marital status or age of any other persons with whom the individual associates.

---
Rural Teacher Education Pathway Project
The Lincoln County School District, Oregon Coast Community College, and Western Oregon University have partnered together to provide a pathway for local students to become teachers:
Rural Teacher Education Pathway Project Information
---
Diverse Recruitment
Seeking bilingual: Spanish, Mam, Acateco
Seeking biliterate: Spanish
Seeking bicultural: All cultures invited
Seeking diversity: All races, colors, religions, sexes, sexual orientations, national origins, disabilities, marital status
---
More About Our Team!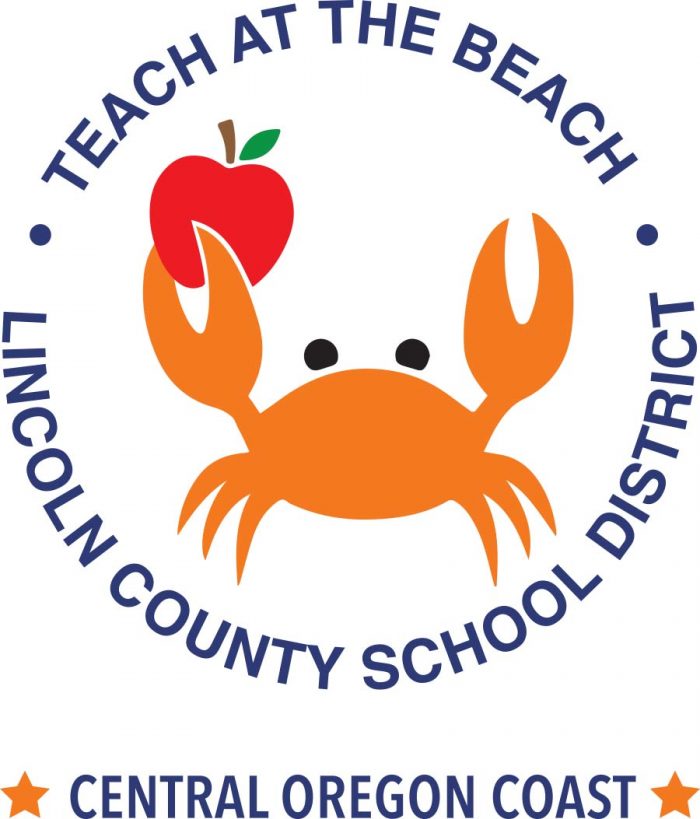 Download our "Teach at the Beach" Brochure
Descargue nuestro folleto "Enseñar en la playa
Here is what Lincoln County School District can offer you:
Rewarding Position in Mid-Size District
520 teachers, administrators, and support staff serve 5,124 students at 11 schools and 3 charter schools.
Competitive Salary & Benefits Package
See our salary schedule. Our pay meets or beats those of comparable districts!
New Teacher Instructional Coaching Program
All first- and second-year teachers are matched with a trained instructional coach, receiving a minimum of 90 hours of hands-on support. Participants are eligible for 18 hours of continuing education credit.
High Retention / Quality Staff
Our teachers average 13.4 years of teaching experience; 67% have a Master's degree or higher.
Technology
Our modern technology department is focused on access and security for our staff and students. LCSD is a 1:1 district, every student is issued a Chromebook. Grades 6-12 are encouraged to take their devices home to continue the learning, even after school hours. We have a high-speed internet connection in every classroom. We offer access to the most relevant online curriculum and educational apps. Teachers and students all have access to the Google Educational Suite. Top-notch technology training, both in-person and virtual. Hotspot connectivity program for students that struggle to access the internet at home. The Technology Department is at your fingertips with the Incident IQ help ticketing system. District-licensed access to Adobe Creative Cloud and Microsoft Office. New teachers receive a brand new laptop.
Numerous Professional Development Opportunities
Reimbursement is available for teacher-initiated professional development, and stipends awarded for advanced education or certification. In-district, our professional educators may participate in Ocean Literacy activities, math coaching training, SIOP training, and National Board certification, to name a few.
Ocean Literacy Initiative
Following the release of the West Coast Governors' Agreement on Ocean Health, Lincoln County School District has made Ocean Literacy a priority. In cooperation with Oregon Coast Aquarium and other local agencies, the school district is working to make learning about the ocean a regular part of the K-12 student experience. Local partnerships provide staff professional development, materials, and support for increasing students' ocean literacy while addressing Oregon state standards.
Arts, Science, Business Partnership
Lincoln County School District regularly partners with leaders in our Arts, Business, and Science communities… National Oceanic and Atmospheric Administration (NOAA), Oregon State University, Let There Be Arts, Oregon Coast Aquarium, Hatfield Marine Science Center, and many more.
Support for School Improvements
Lincoln County School District works diligently to continuously improve and enhance our educational facilities. Seismic upgrades are upcoming, underway or have recently been completed for many of our schools. County voters overwhelmingly approved a $63 million general obligation bond measure in May 2011 which renovated our district facilities and built a new High School. We have also relocated all facilities and equipment outside of coastal tsunami zones to ensure the safety of our community.
---