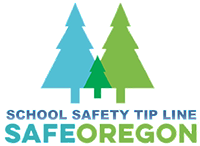 Lincoln County School District has joined Oregon's statewide school safety tip line, called SafeOregon. SafeOregon is a place for students to report safety concerns involving school such as threats, violence, bullying, drugs, self-harm, or cyber-bullying. There are several options for sharing these safety concerns:
911: Use 911 to report an emergency. SafeOregon does not replace 911.
Talk: If it's not an emergency, talk to a trusted adult such as a parent, school teacher, principal, counselor, coach, school resource officer, or another school staff member about your concerns.
Tipline: Use the SafeOregon Tip Line. SafeOregon is a statewide secure place for students, parents, staff, and others to confidentially share information of a potential threat to school or student safety. Trained staff are available 24/7/365.
Appropriate Use: SafeOregon is for serious concerns and focuses on sharing important information, preventing tragedies, and saving lives. It is against Oregon law to misuse SafeOregon. Misusing the tip line (prank tips or deliberate false reports) may be investigated by law enforcement and result in a Class A misdemeanor with a maximum jail sentence of one year and maximum fine of $6,250 (ORS 165.570).