Monthly Menus Online – "So Happy" App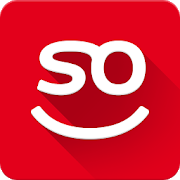 Lincoln County Schools is using the "So Happy" app by Sodexo to display our district's breakfast and lunch menus. For information on the app and to download to your device, please see the links below:



---
Menu Downloads
Below is a list of provided menus for download if you choose not to use the "So Happy" app above:
All meals served in LCSD are served with a variety of fruit & vegetables and meet the Healthy, Hunger-Free Kids Act of 2010 requirements including reduced sodium, reduced sugar, and whole grains.
---
Meals At No Charge
STUDENTS WHO EAT BREAKFAST & LUNCH (AT NO CHARGE) HELP OUR SCHOOLS!
Did you know that breakfast and lunch are served to all of our students at no charge? If your child eats at school, their meal counts toward our ability to maintain this wonderful and vitally important benefit. As a district, we qualify for Community Eligibility Provision to provide meals to all students, but we need adequate participation to continue. Therefore, encouraging your kids to pick up a meal and eat helps all of our children in our schools.
Lincoln County School District is able to offer all students, grades K-12, a no charge breakfast and lunch every school day through the USDA Community Eligibility Program (CEP).
---
Breakfast, the most important meal of the day!
Busy weekday mornings make it a challenge for many families to find time for a healthy breakfast. However, US Department of Agriculture data shows, that an increasing number of students are starting their day with a nutritious breakfast in their school cafeterias. The School Breakfast Program currently serves more than 14 million students every day. Studies show that students who eat school breakfast are more likely to:
Reach higher levels of achievement in math
Score higher on standardized tests
Have better concentration, memory and alertness
Have improved attendance, behavior, and academic performance
Maintain a healthy weight
Encourage your student to have breakfast and start the day out right!
---
For questions or comments regarding Food Service, please contact Sodexo at 541-336-2156.