The GPS data will have a minimum of a 3-5 minute delay from real-time due to uploading and processing.
---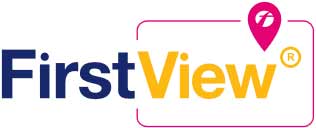 FirstStudent is launching FirstView®, a bus tracking and parent communications app for your smartphone or desktop. FirstView® helps districts and parents better manage the moving pieces during the hectic before-and after-school rush by providing up-to-the-minute bus information. FirstView®is packed with helpful features including estimated bus arrival time, opt-in district messaging regarding delays or issues, customizable alerts and built-in customer support. Here's how to get started!
1. Download the FirstView® Parent App
Go to web.firstviewapp.com (Desktop version) or find FirstView® in the App Store or Google Play. Follow the instructions to download the app to your smartphone.




2. Set Up Your Profile
Open the FirstView® app from your homescreen and begin the registration process.  Email your school office to retrieve the security codes for your student.  You'll be asked to:
Select State/Province
Select District
Enter School Code
Enter Student ID
Enter Student Security Code
Learn more about the FirstView® app.
3. Follow a Stop
Search for your student(s) pick up/drop off stops and select corresponding times.
Once you select "Done," your stop will automatically appear on your Profile under Student Stops and on your FirstView® map. You may track multiple students.
4. Set Notifications
Go to Settings and select "Notification Settings" to turn on notifications. From this screen, you also can add email recipients, edit your Profile or add another student. Alerts and notifications from your district will appear under Notifications in the menu.
(Please note: To receive push notifications, you must allow your mobile device to receive notifications from the FirstView® app. You can confirm/update your settings within your phone's app settings.)
5. Set-Up Time and Distance Alerts
To set up alerts for when the bus is a certain time or distance away from the stop, go to Profile and select your student. You can set alerts for both A.M. and P.M. dispatch.

6. Ask for Help or Give Suggestions
FirstView® provides a dedicated customer support team Monday through Friday to assist you:
Call toll-free 888-889-8920 from 7:00 a.m. ET to 5:00 p.m. ET;
Email Customer Support at support@firstviewapp.com; or
Use the in-app "!" button (right corner) to provide feedback.
Additional Resources