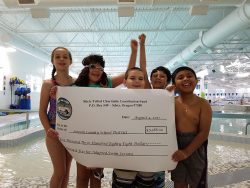 Special Education Services are available through Lincoln County School District to students who are ages 5-21 by September 1, and to children ages 0-5 through Linn-Benton-Lincoln ESD who are identified as disabled.
Services are provided to children who demonstrate a significant developmental delay in one or more areas and/or meet disability eligibility criteria in one of the following categories:
Communication Disorder
Autism Spectrum Disorder
Hearing Impairment
Visual Impairment
Orthopedic Impairment
Other Health Impairments
Specific Learning Disability
Emotional Disturbance
Intellectual Disability
Deaf Blindness
Traumatic Brain Injury
To start your referral for a child who is age 0-5, please call the Early Intervention/Early Childhood Special Education (EI/ECSE) office in Newport at 541-574-2240. Referrals can come directly from the child's family or from others involved with the child. There is no cost for EI/ECSE services to families.
To start a referral for a school aged student (age 5-21), contact the principal or school psychologist at your child's school.
Information for Parents & Students
IDEA 2004 Flow Chart
Excellent tool for teachers and parents to understand the development and implementation of the IEP (Individual Education Program) for school age students.
Special Education Procedures for Individual Education Evaluation
Explains process to follow when parents/guardians disagree with the district's special education evaluation. An independent evaluation may be requested at district expense following LCSD criteria.
LCSD continues to use the Nonviolent Crisis Intervention (NCI) program, developed by the Crisis Prevention Institute. These rules apply to ALL students for ANY use of physical restraint or seclusion implemented by school personnel.
Report Card (English)
Report Card (Spanish)
Information for Staff
LCSD staff go to the Google Drive, then Shared With Me and be sure to check out what is in the Special Education folder, the LCSD Forms folder and the Student folder.
Contact Information
Stefanie Gould
Special Programs Administrator
Email: stephanie.gould@lincoln.k12.or.us
Autumn Belloni
Early Intervention Administrator
Email: autumn.belloni@lblesd.k12.or.us