Lincoln County School District will continue to feed all students during the state mandated shutdown for the rest of the academic year.

Meal service delivery via the First Student bus company:
First Student will be following the routes posted below for meal deliveries. The route details will be updated as needed for accuracy. Please check the links below regularly for our most recent route schedules. We appreciate your patience and understanding as we work to fine tune this new service.
You do not need to be a bus rider to receive a meal and you do not need to sign up, simply stand at the bus stop and wait. For safety and social distancing, please stay back from the bus and a staff member will bring the meals out to you. As we work out times, we will post routes for families to view.
Families have the option for curbside meal pick-ups at the following school sites between 12:00 and 1:30 p.m. (Monday through Friday) during this school closure:
Toledo High
Taft High
Crestview
Newport Middle
Siletz Charter
Menu:
Food Drop-Off Routes: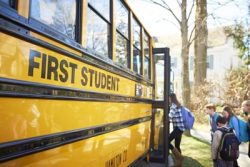 Lincoln County School District's transportation services are provided by First Student, Inc.
"First Student is committed to easing your daily transportation challenges and ensuring your students have the best possible ride to and from school."
---
Bus Routes
If you have questions regarding a bus stop, please contact First Student, Inc at 541-336-5101 or Lincoln County School District Transportation Liaison at 541-574-9487.
Snow Routes
Bus Registration
If bus riders are being registered they do need to come to the school to finalize transportation plans. If you are enrolling a kindergartner, (age 5 as of September 1, 2019), or new to the district, you need to go to your local school office.
Note: Each student MUST have a bus form in order to ride the bus. Check with the school if you have questions. 
Bus Changes
Contact your school to make any changes during the school year.
Emergencies
In case of after-hours emergencies, please call 541-351-5608.
School Closures / Delayed Openings
During inclement weather, please go to the Lincoln County School District website for the latest on school closures or call the 24-Hour Information Line: 541-265-4437. This information also is aired on local radio and TV stations. However, when reading the school closures list that "crawls" on the TV screen, please be sure to read the entire text; there are times when only certain schools are closed because of conditions unique to their area.
---
FirstView® Parent App
Please visit the FirstView® page for more information:
Bus Tracking and Parent Communications App
---
Links
---
Contact
Kim Bolden
First Student Assistant Manager
Email: kimberly.bolden@firstgroup.com
Phone: 541-336-5101 or 541-265-4445
Fax: 541-336-5400
Address: 353 N.E. Burgess Rd., Toledo, OR 97391
Rich Belloni
LCSD Facilities and Maintenance Director
Phone: 541-336-2058