Now Hiring Bus Drivers!
Up to $4500 Sign-on Bonus
More Pay with Experience
Training Pay Offered
Class C Drivers Needed!
Call 541-336-5101 or apply online at https://apply.firstgroupcareers.com/
Welcome to the First Student Bus and Transportation for Lincoln County School District.
We are no longer offering Meals on the Bus Delivery as of February 1. Meals are available and the information can be found here: https://lincoln.k12.or.us/resources/family/menus/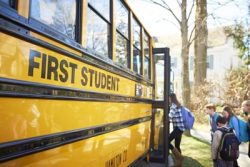 Lincoln County School District's transportation services are provided by First Student, Inc.
"First Student is committed to easing your daily transportation challenges and ensuring your students have the best possible ride to and from school."
---
Bus Routes
If you have questions regarding a bus stop, please contact First Student, Inc at 541-336-5101 or Lincoln County School District Transportation Liaison at 541-574-9487.
Please know that bus routes will evolve as students and grade levels are added. Each change results in time variances for existing bus riders, parents will be asked to check our website for their student's most recent bus service times as route revisions take place. REMINDER: Approved personnel are required to present an official form of photo identification to receive Kindergarten students from the bus.
In addition to the Covid related changes this fall, bus stop locations and routes have been improved to maximize safety and efficiency. With this in mind, your student's former bus stop site may have moved to a nearby stop that is safely accessible.
Snow Routes
Bus Registration
We are excited to be phasing students back into schools! If you selected BUS transportation during your student's online registration, upon return to school your student will be routed to and from a stop closest to their primary registered residential address. If bus service is established for your student, you will receive a phone call with their stop times and location. Bus services are restricted to one pickup and one dropoff location per student at this time due to COVID-19 cohort requirements.
To establish or modify your student's bus transportation plan, please notify the school office in writing and allow up to one week to implement the service.
If a student does not utilize their registered bus plan for 10 or more consecutive school days, the unused bus service plan will be removed.
Bus Changes
Bus services are restricted to one pickup and one drop-off location per student at this time due to COVID-19 cohort requirements, this also means we are no longer able to make daily changes to the pickup and dropoff sites for your child. If your child is registered to ride a bus home but will need to walk or be picked up, please notify the school office in writing before 11am to ensure accurate dismissal.
Emergencies
In case of after-hours emergencies, please call 541-257-7793.
School Closures / Delayed Openings
During inclement weather, please go to the Lincoln County School District website for the latest on school closures or call the 24-Hour Information Line: 541-265-4437. This information also is aired on local radio and TV stations. However, when reading the school closures list that "crawls" on the TV screen, please be sure to read the entire text; there are times when only certain schools are closed because of conditions unique to their area.
---
FirstView® Parent App
Please visit the FirstView® page for more information:
Bus Tracking and Parent Communications App
---
Links
---
Contact
First Student, Inc
Phone: 541-336-5101 or 541-265-4445
Fax: 541-336-5400
Address: 353 NE Burgess Rd, Toledo, OR 97391
Sarah Hibbs
LCSD Transportation Liaison
Phone: 541-574-9487
Email: sarah.hibbs@lincoln.k12.or.us
Darleen Van Riper
First Student Location Manager
Phone: 541-336-5101
Email: darleen.vanriper@firstgroup.com
Kim Bolden
First Student Assistant Manager
Phone: 541-996-2097
Email: kimberly.bolden@firstgroup.com
Rich Belloni
LCSD Facilities and Maintenance Director
Phone: 541-336-2058