We are taking a moment to shine the light on some of our students who are producing amazing visual pieces in various mediums. Some pieces are on display in Washington DC and Oregon City, and others you can visit anytime along Toledo's Main Street, or in Newport at the NewsTimes gallery, or see on t-shirts and banners for Waldport's Beachcomber Days.
Lincoln City
Congressional Art Contest Winners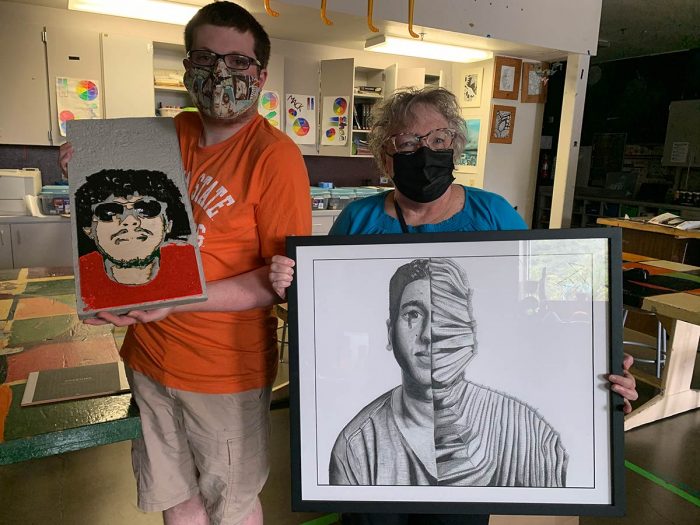 This Spring Taft artists finished 2nd and 4th in Oregon's statewide Congressional Art Competition. Both entries are self-portraits. Kevin Acosta–Lopez's piece, 'Kevin' received 4th and Tyler Perus' Cocoon' received 2nd.
Kevin took a photograph of himself and broke it down digitally into components. He then laser cut those pieces and set them into concrete, The grey of the concrete and its rigidity was used to show the feeling of being trapped in a screen this year. Tyler's self-portrait is a detailed drawing in graphite. As Tyler explains, "This is a self-portrait of me showing half of me wrapped in medical masks. This art piece is representing the feeling of Senior year taken away due to a global pandemic'.
Tyler's piece will travel to Washington D.C. where it will be on display in our Congressman's Office. Kevin's piece will be on display in Oregon City's office.
The contest was canceled last year and the Capitol was thrilled with the entries this year. Mary Ann said they were fighting over where they would be on display.
In the images you see Kevin with his piece, a photo of Tyler, a photo of Tyler's piece, and Mary Ann Smith from the State Capitol with her grandson excited to take the pieces to Salem.
Kevin has been a student in my Digital Design classes and Tyler Perus in Graphic Design classes, though he stayed home this last year. Both are Seniors at Taft 7-12.
Newport
First Display in New Gallery Opening at the NewsTimes Office in Newport
A new gallery display of Newport Middle School art will be viewable until the end of July. A wall located at the NewsTimes office has been converted into a place for a rotation of student art.
Chelsea Odden, Visual Art Teacher at the Newport Middle School had 50 students from 6th, 7th, and 8th grade create 12 panels of artwork. Ms. Odden said that "The work represents art projects created in distance learning with a few digital art pieces by 7th grade and physical artwork created by 6th and 8th graders back in the classroom. Elements of Art such as Line, Color, Shape, Value, and Texture are included in the work in addition to Principles of Design such as Balance, Movement, Proportion, and Unity. Skills include drawing the human eye, color theory, landscape, digital imagery, pixel artwork, and pen and ink. This was a unique year to be an art student but Newport Middle School students stepped up and worked with their creative minds all the same!"
A few students gave her some feedback about the show:
"I already have seen the show with my grandma" – 6th-grade student
"This art project has been more spicy I guess" -7th-grade student during distance learning
"Art has been really fun this year" -6th-grade student
Jeremy Burke, Publisher of the NewsTimes extended the invitation specifically to local students, "We have a 13-foot open wall that would be really great to convert into a gallery. I would love to have all the children and parents have a place that they can come by and view the artwork in the gallery."
The public can view the artwork anytime Monday through Friday from 8 AM to 5 PM with a Saturday viewing option added in the near future: 831 NE Avery St, Newport, OR 97365
Toledo
The ART Toledo (the Arts Revitalization of Toledo) committee invited artists and artwork from Toledo Jr. Sr. High students to showcase works in Toledo's new Phantom Galleries installed on Toledo's Main Street.
Rachel Wallace, visual design and photography teacher at Toledo Jr. Sr. High, explains, "Toledo High School was selected as one of the Phantom Galleries that went up in April. Our original window had 8 student pieces in it that were submitted by students. We added 10 more photographs from my Digital Media class this term, including Kyle Nicolson's piece. My Digital Media class has also been helping with social media and the website for ART Toledo. The students have really enjoyed seeing prints of their photos up on Main Street and learning more about photography. We are hoping this is a partnership that will continue for years to come."
ART Toledo has now won several grants to beautify Main Street Toledo and is planning many art projects in the future.
You can check out the website for more information, www.arttoledo.com.
Waldport
Gabby Glenn, at 10th Grade student at Waldport Middle and High School, entered her drawing of a logo for use as a Beachcomber Day's emblem. Local artist, Carol Cassidy, collaborated with Gabby to render it into a digital medium and prepared it for submission to the Beachcomber Day's committee. Her artwork was selected to be displayed.
Gabby said of the experience, "Quote: I am very blessed to have been a part of the creation of the year-round Beachcomber Days logo. It was a blessing to have worked with Ms. Carol Cassidy, for she kindly helped further my knowledge of digital art and design. Waldport High School's art teacher, Philip Reed is who I want to thank most. Not only has he opened an array of opportunities for me, but he's supported me, challenged me, and helped me along the way. I have known him for about 4 years now and since the beginning, he's been impressed with my talent and has pushed me to become a better artist and person. He is one of the biggest reasons I want to pursue an art-based career and I couldn't be more appreciative of him than that. His belief in me is the only reason I was able to do this and each step of the way, he continues to arrange many openings for me to show the community what I am capable of creating. A huge thank you to everyone who has invested in me and urged me to do what I do best, create art."
---
El arte estudiantil de primavera ilumina el distrito
Nos estamos tomando un momento para reconocer a algunos de nuestros estudiantes que están produciendo increíbles piezas visuales en varios medios de arte. Algunas piezas se exhiben en Washington DC y Oregon City, y otras se pueden visitar en cualquier momento a lo largo de la calle principal de Toledo o en Newport en la galería NewsTimes.
Lincoln City
Ganadores del Concurso de Arte del Congreso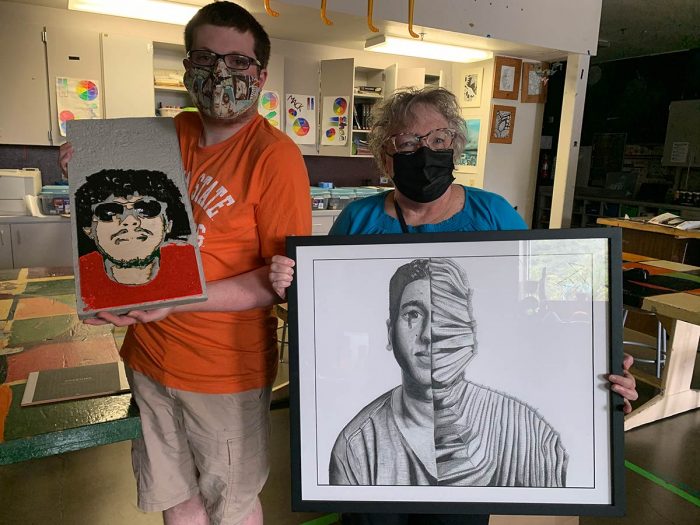 Esta primavera, los artistas de Taft terminaron segundo y cuarto en la Competencia de Arte del Congreso del estado de Oregon. Las dos piezas de arte son autorretratos. Kevin Acosta – La pieza de López, 'Kevin' recibió el cuarto lugar y Tyler Perus 'Cocoon' recibió el segundo.
Kevin tomó una fotografía de sí mismo y la dividió digitalmente en componentes. Luego cortó con láser esas piezas y las colocó en concreto. El gris del concreto y su rigidez se utilizó para mostrar la sensación de estar atrapado en una pantalla este año. El autorretrato de Tyler es un dibujo detallado en grafito. Como explica Tyler, "Este es un autorretrato mío que muestra a la mitad de mí envuelto en cubrebocas médicas. Esta obra de arte representa el sentimiento de haber perdido el último año debido a una pandemia mundial".
La pieza de Tyler viajará a Washington D.C., donde se exhibirá en la Oficina de nuestro Congresista. La pieza de Kevin se exhibirá en la oficina de la ciudad de Oregon.
El concurso fue cancelado el año pasado y el Capital estaba encantado con las piezas de arte de este año. Mary Ann dijo que estaban peleando por dónde se exhibirán las piezas.
En las imágenes se ve a Kevin con su pieza, una foto de Tyler, una foto de la pieza de Tyler y Mary Ann Smith de la capital del estado con su nieto emocionada de llevar las piezas a Salem.
Kevin ha sido estudiante en mis clases de Diseño Digital y Tyler Peru's en las clases de Diseño Gráfico, aunque se quedó en casa este último año. Ambos son seniors.
Newport
Primera exhibición en la inauguración de una nueva galería en la oficina de NewsTimes en Newport
Se podrá ver una nueva galería de arte de la Escuela Middle School de Newport hasta finales de julio. Una pared ubicada en la oficina de NewsTimes se ha convertido en un lugar para la rotación del arte de los estudiantes.
Chelsea Odden, maestra de artes visuales en la escuela Newport middle, hizo que 50 estudiantes de sexto, séptimo y octavo grado crearán 12 paneles de obras de arte. La Sra. Odden dijo que "El trabajo representa proyectos de arte creados en el aprendizaje a distancia con algunas piezas de arte digital de 7º grado y obras de arte físicas creadas por alumnos de 6º y 8º grado en el aula. Los elementos de arte como la línea, el color, la forma, el valor y la textura se incluyen en el trabajo además de los principios de diseño como el equilibrio, el movimiento, la proporción y la unidad. Las habilidades incluyen dibujar el ojo humano, teoría del color, paisaje, imágenes digitales, ilustraciones de píxeles y pluma y tinta. ¡Este fue un año único para ser un estudiante de arte, pero los estudiantes de la escuela de Newport middle dieron un paso al frente y trabajaron con sus mentes creativas de todos modos! "
lgunos estudiantes le dieron algunos comentarios sobre la exhibición :
"Ya vi la exhibición con mi abuela" – estudiante de sexto grado
"Este proyecto de arte ha sido más picante, supongo" -Estudiante de séptimo grado durante el aprendizaje a distancia
"El arte ha sido muy divertido este año" -Estudiante de sexto grado
Jeremy Burke, editor de NewsTimes extendió la invitación específicamente a los estudiantes locales, "Tenemos una pared abierta de 13 pies que sería genial convertirla en una galería. Me encantaría que todos los niños y padres tuvieran un lugar donde pudieran pasar y ver las obras de arte en la galería."
El público puede ver la obra de arte en cualquier momento de lunes a viernes de 8 AM a 5PM Y próximamente se agrega la opción de ver los sábados: 831 NE Avery St, Newport, OR 97365
Toledo
Rachel Wallace, profesora de diseño visual y fotografía en Toledo Jr. Sr. High, explica: "Toledo High School fue seleccionada como una de las Galerías Fantasma que se inauguró en abril. Nuestra ventana original tenía 8 piezas de estudiantes que fueron enviadas por los estudiantes. Agregamos 10 fotografías más de mi clase de Medios Digitales este trimestre, incluida la pieza de Kyle. Mi clase de Medios Digitales también ha estado ayudando con las redes sociales y el sitio web de ART Toledo. Los estudiantes han disfrutado mucho viendo copias de sus fotos en Main Street y aprendiendo más sobre fotografía. Esperamos que esta sea una asociación que continuará durante los próximos años ".
Puede consultar el sitio web para obtener más información, www.arttoledo.com.
Waldport
Gabby Glenn, estudiante de décimo grado en Waldport Middle and High School, ingresó su dibujo de un logotipo para usarlo como emblema del Beachcomber Day. La artista local Carol Cassidy colaboró con Gabby para convertirlo en un medio digital y lo preparó para presentarlo al comité de Beachcomber Day. Su obra de arte fue seleccionada para mostrarse.
Gabby dijo de la experiencia: "Tengo la suerte de ser elegida y reconocida. Me enseñaron aspectos del arte digital, cómo usar el estudio con Carol Cassidy y disfruté trabajar con ella para crear mi visión. ¡Me alegra que mi arte se utilice para ayudar a la comunidad!"