Oregon Institute of Technology and Oregon State University Provide Branded T-shirts to Promote Pre-college Thinking
Crestview Heights Elementary school in Waldport, Oregon, is a small, rural school with approximately 248 students K-6. It is a town with a lower percentage of students from households with parents who have gone on to college than a more urban city might have. Mike Gass, the Principal, knows that it is essential to raise the awareness of going on to college as a real option for students. "We have high expectations for our students here at Crestview, and we are trying to get families and students to think about their futures. To have close access to local colleges is a fantastic way to build the idea of future options. I believe a circumstance or a zipcode should not keep students from opportunities."
Principal Gass reached out to two Oregon-based colleges and asked them to consider partnering with his school. He suggested the timing be around the return of students to campus in hybrid on February 16. The Oregon Institute of Technology in Klamath Falls and the Oregon State University in Corvallis jumped at the opportunity and provided t-shirts, with their college logo, for students to wear while attending class.
Carl Thomas, Oregon Tech Educational Programs & Outreach, said, "It's important that students, no matter their age, know what their future can hold in terms of education and careers. As a public university in Oregon that specializes in STEM-related fields, Oregon Tech helps students become engineers, medical imaging technicians and get into other professions that require college graduates to have technical skills. It's fun supporting the next generation of innovators and helping them discover how Oregon Tech can help them achieve their dreams." and Emily Nicholson, Precollege Programs Coordinator, Oregon State University, also shared in the enthusiasm, "Here at OSU, we believe it is never too early (or too late!) to start thinking about your future. For elementary students, we focus on college awareness and excitement. In today's virtual world, giving the students and teachers something tangible is a fantastic way to do that. By pairing these shirts and pencils with virtual connections with current OSU students, we in the Office of Precollege Programs hope to expand on the possibility of higher education to Crestview Heights students, and hopefully create some future Beavers! We jumped at the opportunity to brighten their day – and hopefully their future as well. Go Beavs!"
The students who attend on certain days of the week will be sporting OIT shirts and colors, while the students who attend the alternate days will be OSU beavers. The Crestview Heights staff have planned college days throughout the spring. They have activities scheduled with colleges to do virtual tours, student meet and greet with campus personnel, demos in science labs, and really whatever either side can dream up!
Dr. Karen Gray, Superintendent of LCSD, explains, "Our goal is to provide high-quality opportunities for all of our students. We want to develop all students to be great citizens and have an advantage because they came through our system. We are developing educational and social/emotional supports that will help our students be able to compete globally yet retain the sense of community and values developed in small towns and small schools. We are happy to have partners such as Oregon Institute of Technology and the Oregon State University be a part of this."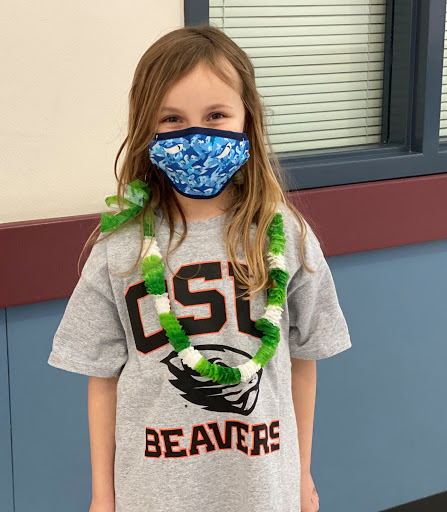 Jazzmenn Somers of Mrs. Rodger's 2nd grade class.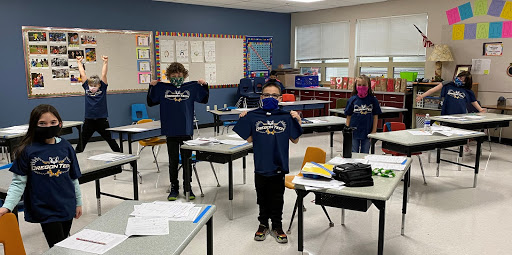 Mrs. Tomlinson's 3rd grade class in OIT shirts.



Mrs. Knight's 4th grade class in OSU shirts.
---
Los estudiantes se preparan para el futuro en la escuela primaria Crestview Heights
El Instituto de Tecnología de Oregón y la Universidad Estatal de Oregón proporcionan camisetas de marca para promover el pensamiento preuniversitario
La escuela primaria Crestview Heights en Waldport, Oregon, es una pequeña escuela rural con aproximadamente 248 estudiantes K-6. Es una ciudad con un porcentaje más bajo de estudiantes de hogares con padres que han ido a la universidad comparado a una ciudad más urbana. Mike Gass, el director, sabe que es esencial crear conciencia de que ir a la universidad es una opción real para los estudiantes. "Tenemos grandes expectativas para nuestros estudiantes aquí en Crestview, y estamos tratando de que las familias y los estudiantes piensen en su futuro. Tener un acceso cercano a las universidades locales es una manera fantástica de construir la idea de que puede haber opciones en el futuro. Creo que una circunstancia o un código postal no debería impedir que los estudiantes tengan oportunidades ".
El director Gass se acercó a dos universidades en Oregón y les pidió que consideraran asociarse con su escuela. Sugirió que esa asociación fuera cuando los estudiantes regresan al campus en el plan híbrido el 16 de febrero. El Instituto de Tecnología de Oregón en Klamath Falls y la Universidad Estatal de Oregón en Corvallis aprovecharon la oportunidad y proporcionaron camisetas con el logotipo de la universidad para los estudiantes para usar mientras asisten a clase.
Carl Thomas, Oregon Tech Educational Programs & Outreach, dijo: "Es importante que los estudiantes, sin importar su edad, sepan lo que les espera el futuro en términos de educación y carreras. Como universidad pública en Oregon que se especializa en campos relacionados con STEM, Oregon Tech ayuda a los estudiantes a convertirse en ingenieros, técnicos de imágenes médicas y a ingresar a otras profesiones que requieren que los graduados universitarios tengan habilidades técnicas. Es divertido apoyar a la próxima generación de innovadores y ayudarlos a descubrir cómo Oregon Tech puede ayudarlos a lograr sus sueños ". y Emily Nicholson, coordinadora de programas preuniversitarios, Oregon State University, también compartieron su entusiasmo: "Aquí en OSU, creemos que nunca es demasiado temprano (¡o demasiado tarde!) para comenzar a pensar en su futuro. Para los estudiantes de primaria, nos enfocamos en conciencia universitaria y entusiasmo. En el mundo virtual de hoy, darles a los estudiantes y maestros algo real es una manera fantástica de cambiar la rutina. Al combinar estas camisas y lápices con conexiones virtuales con los estudiantes actuales de OSU, en la Oficina de Programas Preuniversitarios esperamos expandirnos la posibilidad de una educación superior para los estudiantes de Crestview Heights y, con suerte, crear algunos futuros Beavers (castores son el logo tipo de la universidad) Aprovechamos la oportunidad para alegrarles el día y, con suerte, también su futuro. ¡Adelante Beavers! "
Los estudiantes que asistan en ciertos días de la semana lucirán camisetas y colores de OIT, mientras que los estudiantes que asistan a los días alternos serán Beavers/castores de OSU. El personal de Crestview Heights ha planeado días universitarios durante la primavera. Tienen actividades programadas con las universidades para hacer recorridos virtuales, conocer y saludar a los estudiantes con el personal del campus, demostraciones en los laboratorios de ciencias, ¡y realmente cualquier cosa que ambos lados puedan imaginar!
La Dra. Karen Gray, Superintendente de LCSD, explica: "Nuestro objetivo es brindar oportunidades de alta calidad para todos nuestros estudiantes. Queremos desarrollar a todos los estudiantes para que sean grandes ciudadanos y tengan una ventaja porque vinieron a través de nuestro sistema. Estamos desarrollando apoyos educativos y socioemocionales que ayudarán a nuestros estudiantes a competir a nivel mundial y al mismo tiempo conservar el sentido de comunidad y los valores desarrollados en pueblos pequeños y escuelas pequeñas. Estamos felices de tener socios como el Instituto de Tecnología de Oregón y la Universidad Estatal de Oregón para ser parte de esto ".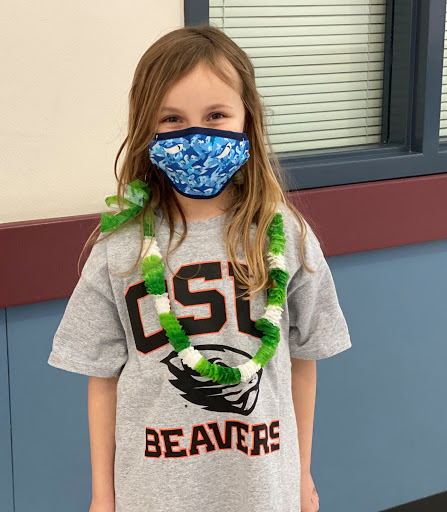 Jazzmenn Somers de la clase de segundo grado de la Sra. Rodger.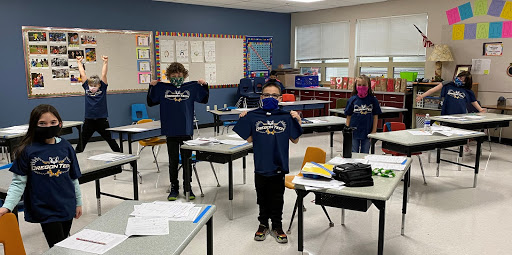 La clase de tercer grado de la Sra. Tomlinson con camisetas de OIT.



La clase de cuarto grado de la Sra. Knight con camisetas de OSU.