Dear Wonderful Mask Makers,
As of today, the 38 of you have collectively gifted Lincoln County School District with 1,466 cloth face coverings/masks!
Thank you! Thank you for your kindness in gifting fabric and elastic. Thank you for your kindness and skill in sewing face masks. Many of you coordinated with each other to share fabric, thread and supplies, or to make deliveries. Some of you worked in networks of sewers and I really don't have each of those names in order to include in our thanks or in our number of volunteers. Thank you! Thank you for your generosity and for your eagerness to just jump right in and fill an important need in our community. What a time we are living in! Your goodness makes it so much more manageable!
Status Update:
Our meal preparation and distribution operations are fully stocked with face masks/coverings.
Each school office also has a bin full of beautiful and unique face masks/coverings.
We are all set for now, thanks to each one of you! We may have a need for more in the future, but for now we are good to go! 🙂
Some of you might be ready for a break! A job well done! While others want to keep sewing. For those that want to continue, the county is collecting masks for vulnerable populations. I am not coordinating that effort but here is a link for information about it in case you want to help out with that project. https://www.co.lincoln.or.us/hhs/page/personal-protective-equipment-ppe-donations#Cloth
Thank you again. Please take a look at the photographs of the school office kits we made with your donations.
Sue Graves, Safety Coordinator, MA Security Studies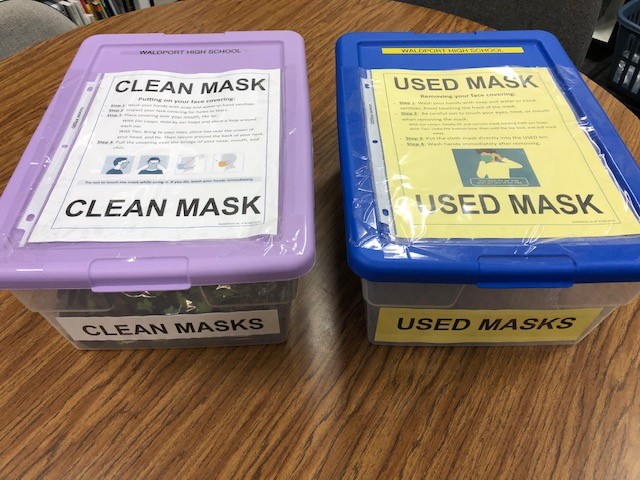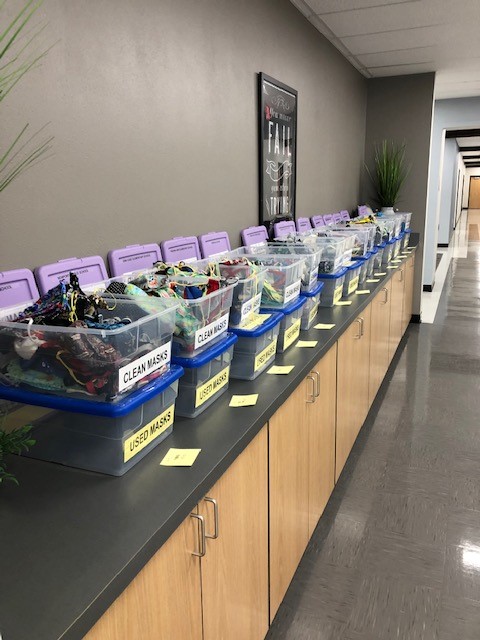 ---
Estimados creadores de máscaras maravillosas,
A partir de hoy, ¡38 de ustedes han regalado colectivamente al Distrito Escolar del Condado de Lincoln con 1,466 máscaras / máscaras de tela!
¡Gracias! Gracias por su amabilidad en regalos de tela y elásticos. Gracias por su amabilidad y habilidad para coser máscaras faciales. Muchos de ustedes se coordinaron entre sí para compartir telas, hilos y suministros, o para hacer entregas. Algunos de ustedes trabajaron en redes de alcantarillas y realmente no tengo cada uno de esos nombres para incluir en nuestro agradecimiento o en nuestro número de voluntarios. ¡Gracias! Gracias por su generosidad y por su afán de participar y satisfacer una necesidad importante en nuestra comunidad. ¡Qué tiempo estamos viviendo! ¡Tu bondad lo hace mucho más manejable!
Actualización de estado:
Nuestras operaciones de preparación y distribución de comidas están completamente surtidas con mascarillas / cubiertas.
Cada oficina de la escuela también tiene un contenedor lleno de máscaras faciales y únicas.
¡Estamos listos por ahora, gracias a cada uno de ustedes! Es posible que necesitemos más en el futuro, pero por ahora estamos listos. 🙂
¡Algunos de ustedes podrían estar listos para un descanso! ¡Un trabajo bien hecho! Mientras que otros quieren seguir cosiendo. Para aquellos que desean continuar, el condado está recolectando máscaras para poblaciones vulnerables. No estoy coordinando ese esfuerzo, pero aquí hay un enlace para obtener información al respecto en caso de que desee ayudar con ese proyecto. https://www.co.lincoln.or.us/hhs/page/personal-protective-equipment-ppe-donations#Cloth
Gracias de nuevo. Eche un vistazo a las fotografías de los kits de la oficina escolar que hicimos con sus donaciones.
Sue Graves, Coordinadora de Seguridad, MA Estudios de Seguridad