The principal, Reyna Mattson, of Newport High School announced today that Erin Watanabe has been named a Commended Student in the 2020 National Merit Scholarship Program. A Letter of Commendation from the school and National Merit Scholarship Corporation (NMSC), which conducts the program, will be presented by the principal to this scholastically talented senior.
About 34,000 Commended Students throughout the nation are being recognized for their exceptional academic promise. Although they will not continue in the 2020 competition for National Merit Scholarship awards, Commended Students placed among the top 50,000 scorers of more than 1.5 million students who entered the 2020 competition by taking the 2018 Preliminary SAT/National Merit Scholarship Qualifying Test (PSAT/NMSQT).
"Those being named Commended Students have demonstrated outstanding potential for academic success," commented a spokesperson for NMSC. "These students represent a valuable national resource; recognizing their accomplishments, as well as the key role their schools play in their academic development, is vital to the advancement of educational excellence in our nation. We hope that this recognition will help broaden their educational opportunities and encourage them as they continue their pursuit of academic success."
Erin Watanabe, a senior at Newport High School, is the daughter of Bruce and Tina Watanabe of Newport. She is an International Baccalaureate Diploma Candidate, AVID Tutor, and holds a 4.0 cumulative GPA.  She is a four-year varsity cheerleader, cheer captain, 2019 OSAA State Cheerleading Champion, and two-time OCCA All-State Team Member. She is involved in Leadership and Junior Optimists Club.
La directora, Reyna Mattson, de Newport High School, anunció hoy que Erin Watanabe ha sido nombrada Estudiante Elogiada en el Programa Nacional de Becas de Mérito 2020. El director presentará una carta de recomendación de la escuela y la National Merit Scholarship Corporation (NMSC), que dirige el programa, a este estudiante de último año con talento académico.
Unos 34,000 estudiantes elogiados en todo el país están siendo reconocidos por su excepcional promesa académica. Aunque no continuarán en la competencia 2020 por los premios National Merit Scholarship, los estudiantes elogiados se ubicaron entre los mejores 50,000 anotadores de más de 1.5 millones de estudiantes que ingresaron a la competencia 2020 al tomar el examen preliminar de calificación de SAT / National Merit Scholarship 2018 (PSAT / NMSQT) )
"Aquellos que fueron nombrados estudiantes elogiados han demostrado un potencial sobresaliente para el éxito académico", comentó un portavoz de NMSC. "Estos estudiantes representan un valioso recurso nacional; reconocer sus logros, así como el papel clave que desempeñan sus escuelas en su desarrollo académico, es vital para el avance de la excelencia educativa en nuestra nación. Esperamos que este reconocimiento ayude a ampliar sus oportunidades educativas y animarlos mientras continúan su búsqueda del éxito académico ".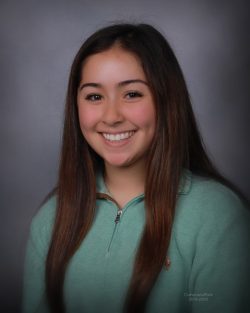 Erin Watanabe, estudiante de último año en Newport High School, es hija de Bruce y Tina Watanabe de Newport. Es candidata al Diploma de Bachillerato Internacional, Tutor AVID, y tiene un promedio de calificaciones acumulativo de 4.0. Ella es una animadora del equipo universitario de cuatro años, capitana de la animadora, campeona de porristas estatales de la OSAA de 2019 y dos veces miembro del equipo de todo el estado de OCCA. Ella está involucrada en el Club de Liderazgo y Junior Optimists.