Grant Written by Local Nonprofit Music is Instrumental was Awarded
by Fred W. Fields Fund of the Oregon Community Foundation
Earlier this month, the Oregon Community Foundation contacted local nonprofit Music Is Instrumental to let them know that their grant request for Waldport Middle School 7th and 8th graders had been awarded for $15,000 for this first year (19-20) with an opportunity for another $15,000 in the second year of programming (20-21).
The purpose of this $15,000 grant is to create greater access to music for 7th and 8th-grade students at Waldport Middle School through the purchase of instruments, learning with visiting musicians, and performing for the community.
Tim Chase, the music teacher at Waldport Middle and High School, said, "Students in Waldport are very artistic and musical, and receiving this grant from Music is Instrumental is going to equip our students to reach even higher with music. We are very excited to allow more students to have instruments to play and opportunities to learn."
Music is Instrumental (MII) is a non-profit based in Lincoln City that provides music opportunities for youth. The MII mission states, "We support high-quality music education, performances, and instruments for students on the Central Oregon Coast." MII board members who include the principals and music teachers from Lincoln City schools in partnership with the Lincoln City Cultural Center have been facilitating the Oregon Community Foundation's Studio to School grant for the last five years.
"We created a sequential music program in grades K-12 building from one teacher with 140 students in 2014, to three teachers with 1,250 students in 2018. We wrote this new grant to sustain and expand access to music to other students on the coast, starting with Waldport Middle School," said Christine Tell who led the Studio to School grant. The Waldport grant will provide instruments for students because "no student should be denied access to learning music because of lack of funds. Students thrive musically and academically when the barriers to access are removed," Tell added.
Majalise Tolan, Secondary Teaching and Learning Administrator, has seen the impact of music. "Students in music develop their intellectual capacity, creativity, and self-esteem. They become part of a group and learn important social skills. It is amazing to see students challenge themselves by performing before their families and the community. I have seen students become proud and confident musicians. It is a journey and we want Waldport 7th and 8th graders to have that opportunity."
More about the Oregon Community Foundation Improving Arts Education in School Initiative funded through the Fred W. Fields fund can be found with their press kit online at www.oregoncf.org The Music is Instrumental website with background on the
successful implementation of Studio to Schools project can be found at https://musicisinstrumental.net.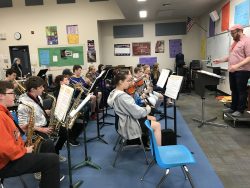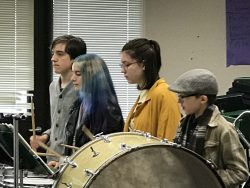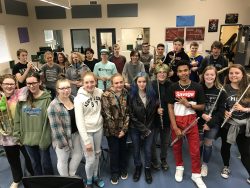 Images of Waldport Middle and High Music Students
###