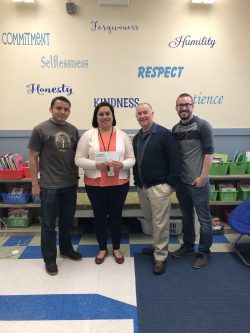 Newport First Baptist Blesses West Area Schools with a Significant Gift
 Easter Sunday Offerings Were Given as $4,000 to Spend on Students in Need
Newport, Or – April 30, 2019 – On Friday, April 26, Pastor Glenn, Pastor Marcus, and Pastor Angel of Newport First Baptist Church visited  Yaquina View Elementary, Sam Case Elementary, Newport Middle School, and Newport High School and presented each of the four area principals with a check for $1,000 to spend on supporting students at West Area schools.
Pastor Glen Small explained how this came about, "For the church, Easter is about celebrating God's perfect provision to meet our greatest need. As we anticipated celebrating on Resurrection Sunday, we wanted to find some practical way that we could mirror the heart of God by addressing specific needs. The plan was to receive an offering from the congregation on Easter Sunday with the intention of giving it all away…The checks were given with the instruction, "Use this money at your discretion to meet the needs that aren't funded through the regular sources."
Plans to use the funds at all the West Area schools are centered on feeding and giving supplies to the families and students in need at the schools. Sam Case Elementary School Principal Shelley Moore was, "Overwhelmed with gratitude for this gift of love. Sam Case has been trying to figure out how to start an on-campus food pantry for our students and families and this will get us well on our way!"
Principal Kristin Becker of Yaquina View Elementary gave the pastors hugs and teared up at being able to support many more children than she'd originally thought she'd be able to this year. "We will spend that money to purchase additional gift cards for families when we have run out of cards we receive for use at JC Market by an anonymous benefactor. The cards from the benefactor tend to come around the winter holidays and then late spring. We are putting this money from Newport First Baptist Church into the fund so that we can purchase cards during that in-between time. Our families do call us (thanks in large part to the connections of our Family Advocate, Tami Harris, with our families) to let us know they are hungry."
The Lincoln County School District has identified 849 students, K-12, who are without permanent housing and are receiving assistance through our Homeless Education and Literacy Project. "We are always in need of donations and appreciate the kindness of the Newport First Baptist Church for supporting these students," said Dr. Karen Gray, Superintendent of Lincoln County School District.
###