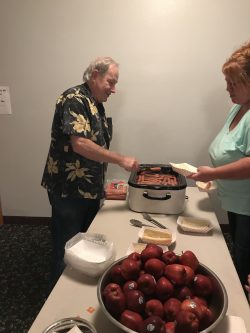 Lincoln County students are going back to school with smiles on their faces and backpacks full of supplies thanks to many organizations that made donations to local students. During the month of August, organizations across Lincoln County were busy collecting and distributing school supplies to children and youth.  Some sites also had school clothing to pass out, food, and information booths on community resources. Back to school shopping can be a stressor and a financial burden on families. The donations helped hundreds of students get prepared for school and contributed to a great school year.
Lincoln County School District would like to thank the following organizations for their donations and time helping our students: Newport Elks Lodge, Ocean Unity, Atonement Lutheran Church, Sacred Heart Catholic Church, Newport Rotary Club volunteers, Ladies of the Toledo Methodist Church, Toledo Foursquare Church, Faith Baptist Lincoln City, The Donation Station, Coastal Vineyard Church of Lincoln City, Seashore Family Literacy, Mo's Restaurant of Lincoln City, and many other organizations and individuals.
Over 226 students attended the Back to School Event at the Newport Elks Lodge on Wednesday, August 29.