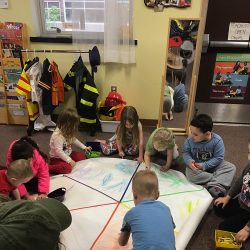 LCSD offers child development labs at each of our four high schools. Each classroom serves as a Teaching Lab for high school students who earn high school and college credit while they learn how to manage a classroom, plan age and skill appropriate activities for the children, and actively work with the children in individual and group settings while being mentored by the Lead Teachers. Teachers with extensive education, training and hands-on background in Early Childhood Education work in the classroom to provide the early learning curriculum and guide high school students in their practicum work.
LCSD Early Learning Center Parent Handbook
Classes are open to community children for a fee. Please see the links below for more information about the programs and how you can enroll.
To apply for LCSD early learning programs please register using LCSD Online Registration and select "LCSD Early Learning Application". Helpful tips for registering can be found in this handout.
Scholarships are available for families who are low income. To see if you qualify, please visit the Preschool Promise page for more information.
---
For further questions please contact the school directly or Diane Wilkinson, Early Learning Coordinator: 541-265-4402 ext. 402 or diane.wilkinson@lincoln.k12.or.us