The East County Community Partnership would like to say thank you to the Confederated Tribes of Siletz Indians for the generous grant we received for the 2017-18 school year for all East County Schools. We have been able to supply immediate needs to many of our homeless and at risk students. These funds have helped to meet basic health and education needs to ensure our students are learning and thereby improving their success in school.
---
---
Toledo Jr./Sr. High School is collecting names of Toledo grads that served in the Armed Forces, including the Coast Guard. If you or someone you know, are a Toledo graduate and have served in the Armed Forces, please fill out the form linked below. We are using the information for future ways to honor these men and women.
https://goo.gl/forms/ rQ7CAXUiNIISCmLe2
---
School Information
School Office Hours:
8:00 AM - 3:30 PM, weekdays
2018-19 Fall Registration:
We will be doing online registration agian this year. Our office will be open with computers and midco bus company available on these dates:
August 21st 8:30-6:00
August 22nd 8:30-4:00
August 23rd 8:30-4:00
See you this fall!
Parent Pinnacle:
You can check your student's grades and attendance online. Call Kim at
541-336-5104 for more information.
Reminder:
Breakfast and lunch are provided on school days at no cost to the student.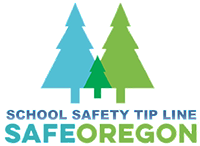 Toledo Jr/Sr High (7-12)
Principal: Clint Raever
Assist. Principal: Adam Strachan


Hours: 8:00 AM - 3:30 PM


Address/Phone:
1800 NE Sturdevant Road
Toledo, OR 97391
Phone: 541.336.5104
Fax: 541.336.2970
Toledo Jr. / Sr. High School