Toledo Elementary
  Paul Tucker, Principal
Liz Postlewait, Asst. Principal
---
For more information about the
---
"Jan. 26, 2017: LCSD is aware of "phishing" emails circulating through G-Mail accounts. If you receive a short email from someone, even someone working at LCSD, asking you to "click here"- DO NOT DO IT. Many of these emails reference invoices."

As one step to help reduce this issue we are currently sending any message with the "Please see the following invoice" type of language (and there are several versions) into to a "blackhole" email account.   This keeps the messages from spreading.  Unfortunately it means if a parent/community member just replies to the message (so the reply includes the targeted wording) then the parent/community member's message goes to the "blackhole" too.   I'm attempting to give them a response (in a safe manner) so they know.   But a message on school sites will be helpful.

We're also blocking the links involved and disabling accounts when affected.  Password changes are necessary for affected accounts.   A password that is stolen in these phishing things can never be used again for that account.  Once collected these are shared/sold to others.

The challenge is that the sites and language will change over time.  There have been three sites six versions of the wording so far as an example.

We have checked out what this "click here" link does and it is trying to get people's passwords. It's not ransomware thankfully.
Stay tuned.
Forrest J. Fisher
Director of Technology
Lincoln County School District
335 NE Third Street
Newport, OR  97365
You don't need a parachute to go skydiving.
You need a parachute to go skydiving twice. :-) 
---
FAMILY CELEBRATION NIGHT
June 7th from 4:00-7:00
Come enjoy a funfilled evening with the whole family!
Fun games, inflatables, and a dunk tank!
Cohen and Park will be there to take family pictures too! The first picture is free!
---
REMEMBER...
No School on May 25th, Prof. Dev.
No School on May 28th, Memorial Day
Family Celebration Night
June 7, 4:00-7:00pm
What do you want to be
when you grow up?
How do you prepare yourself
for the future?
Click on the link below to find some answers to those questions and more!
Looking for a new way to practice those old skills? Check out the weblinks listed on the ToES Media Center Website!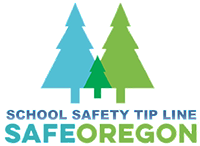 Toledo Elementary (K-6)

Principal: Paul Tucker


Hours: 7:45 a.m. to 3:45 p.m.


Address/Phone:
600 SE Sturdevant Road
Toledo, OR 97391
Phone: 541.336.5121
Fax: 541.336.5407
Toledo Elementary School